To our Web Site. . .
Through the process of making new friends, family and acquaintances from researching genealogy over many years, my Father learned of the Finnish word Sisu. If you don't know this word, it is very familiar to the Finns and is often used to describe Finland as a whole. Sisu can loosely be translated as going beyond one's mental or physical capacity, to have guts, grit, stoic determination. My Father continually displayed his Sisu regardless of the challenge, whether it was getting his PhD to prove "anyone could do it" or not giving in to the statistics of cancer. He approached all aspects of life with action and not just words, not resting on his laurels and never boasting of his accomplishments. My Father had Sisu, he was a true Finn.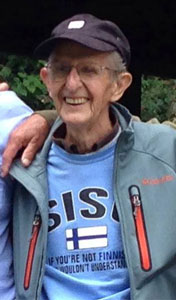 1932-2015
. . My name is Wes Hakanen and my wife Mimi and I have developed this site with the guidance and patience of our son Eran and his wife Peiyu. The purpose of the site is to share information about our families with an emphasis on their genealogical roots.
The site you are reading is a change from the original. The first effort was done using website developer software. This new format is following a Blog style. Our son Eran recommended we make the switch to simplify the entry process and to make it more 'user friendly'. We agree with him and hope you like the new format.
An early start. . .
. . Genealogical research is one of several interests I started to pursue after retiring in December of 1991. As I began gathering information, it became apparent that very little documentation takes place as people go about their daily lives. While this adds interest to the research process, it is a sad fact that much endearing information about our ancestry is lost forever and consequently future generations lack precious information about their heritage.
It was this realization that motivated us to develop this site. It consists of things remembered, researched information and recollections of others. The site will continue to be a work in progress since information will be added as new things are learned, discovered and clarified. We think and hope that the information will be of interest to our descendants and others someday.
Rather than focus on only one family or branch, the research follows the paternal and maternal linage of both our parents. More information has been gathered about my parents, since I started seriously gathering data in 1992.
Sporadic effort. . .
. . Although there are periods of time I leave this effort (when the maze of names and relationships become mind boggling), I plan to continue the research as long as I can.
Our plan is to continue adding information regarding Mimi's family as we expand our research. Hopefully Mimi will become increasingly interested and contribute to this project accordingly. You can see the results of our efforts, to date, by going to the other pages of this site.
The Site has six divisions . . .
. . . After this page, there is the 'About' page which gives you information about Wes and Mimi and their family. The next two pages, 'Genealogy' and 'Photo' , provide information resulting from our research. The 'Contact' page is for anyone who wants to contact us by email to explore possible connections with our research or to provide advice or comment about the site. We made typing the address a little cumbersome to eliminate "hackers" who click and make outlandish comments.  For those not familiar with genealogy, there is a page featuring some of our favorite genealogy linkages called 'Favorites'.
In Addition. . . There are pages that can only be accessed through the text. They are mostly genealogy information about individuals or families and of interest to a limited number of people. One page, however, I call "Wes's Retrospectives" and it consists of thoughts on anything and everything. I add to this page as things are remembered by me or others. These pages are reached by clicking on a bold italic "here" placed in key places throughout the pages of text. For example, in this case, for Wes's Retrospective page click here
The maze of names and relationships . . .
. . . Here are some of the Surnames that have connections with our families. This partial list gives you an idea of why there is need for a break occasionally.
From Wes's father's side: ALA-KORTESNIEMI; ALA-KORTESOJA; AHLROT; HAKANEN; HAVILA; HOISKA; KANGASNIEMI; KANNOSTO; KIVISTÖ; KOSKUE; KURKIISO; LAHTI; LÃ…GSTRÖM; MYLLÄRI; OLAVINPOIKAÖ; OPAS; PANULA; PETÄJÄLOUMA; VALKAMA and VANHATALO .
From his mother's side: BALD; BUSH; BOUCH; FLEN; JAMESON; LOTHTAN; McKISSON; NICELY; SALTSGIVER; SNADDON; SNEDDEN; STROHMYER; WHITSELL; and WHITESELL.
From both Mimi's parents' sides: ALLEN; BAKER; CONRAD; COUP; FISCHER; GRIFFITH; GROSS; HENRICI; HARMON; HERMAN; HOFFMAN; HOFIUS; HOVIS; KLINGENSMITH; LORCH; NEU; ROBERTS; SCHUNCK; SCHWARTZ; SHERRAD; SHUNK; STOOPS; VANDERLIN; and VAN DYKE;
The Finnish names are the toughest.  However I am now communicating with a cousins in Finland.  Arja who is related through my uncle Mike's wife.  Her grandmother was a sister of Laimi, Mike's wife.  She has been extremely helpful in helping me sort out the names and contacting others in Finland.  One person she "found" for me was a cousin Leena from my grandmother Hakanen's family.  Cousin Leena's grandfather was my grandmother's brother.  Both Leena and Arja have provided a lot of information about Finland  and qualified many things that had me confused.  In the past, in Finland, they named their houses, their villages and their farms.  In fact they changed their surnames to match where they lived.  Arja and Leena have helped me sort all that out.
Hope you enjoy the Site!